Vehicle Description



This auction is for the 1989 Kenny Brown Mustang Super GT shown below.

The history and list of features is too long to list, but I will do my best. The car was bought new by my racing mentor, Virgil Smith, in Omaha, Nebraska. Since then, it has led a truly pampered life.

The car has never been a daily driver. Virgil only drove it to car shows where he won over 100 trophies over its first several years. Once he began modifying it, he raced in autocross events and eventually became the Nebraska SCCA champ in this car.

Virgil eventually caught the drag racing bug and over the next several years spent over $100,000 on its modifications and enhancements. The car has been down the 1/4 mile at 8.65 sec and over 165 miles per hour.

Since I bought it in 2001, I backed down the horsepower from the 900+ rear wheel horsepower to about 750. The current list of performance parts is listed below. On slicks, it will run in the mid 9s and mid 140s in the 1/4 mile.

One of the unique features of the car is the fender flares. When Virgil was autocrossing the car, he had the fenders widened to accomodate very wide wheel and tire combinations. AutoKraft (www.autokraftnebraska.com) in Lincoln, NE stretched each fender 3". This was all done with steel....no fiberglass or bondo. It truly gives the car a unique look and attracts an enormous amount of attention.

SPECIAL NOTE: The tough part to believe is.......this car is tagged, registered, inspected, and insured to drive on the street!!!

1989 Mustang GT

Kenny Brown Super GT

Ford Motorsport A4 5.0 Block - Bored .070" Over

4340 Forged Nitrated 3.4" Crank & Oliver Billet Steel Rods - 354"

Ross Custom Racing Pistons

Comp Cams Solid Roller Camshaft - .696"

TFS Street Heat Aluminum Heads - "Max Ported" by Fox Lake

Pro Mustang 2" x 3.5" Headers, Dynoxmax 3.5" Bullet Mufflers

Ford Truck Lower Intake, Downs Intake, Accufab 75mm Throttle Body

Paxton Novi 2000 Supercharger, Paxton Renegade Racing Bracketry and Mounting Kit, Custom Inlet and Discharge Tubing, 8-rib 8" crank pulley, 3.5" supercharger pulley

JW UltraGlide 2-Speed Transmission - with Trans Brake

JW 8" Torque Converter - 5500 Stall

Hurst Quarterstick Shifter w/ Trans Brake and Line Lock Controls

Ford 8.8" Rear, Moser Spool & 33t Axles, FMS 3.55:1 Rear Gear

PRO-EFI Fuel Injection System, Siemens 83#/hr Fuel Injectors

Weldon 2035 Fuel Pump, Sumped Stock 15 gal Gas Tank

Custom Roll Cage, Thru-Floor Subframe Connectors - HP Motorsport

Griggs Tubular K-member & Control Arms

Koni Adjustable Drag Struts, HAL Adjustable Drag Shocks

HP Motorsport Rear Anti-Roll Bar

HP Motorsport Megabite Sr Lower Control Arms & Upper Control Arms

Fenders Flared 3.5" by Auto Kraft - Lincoln, NE

Fiberglass Hood and Hatch - Otherwise, All Steel Body

Weld Racing Wheels - 15x10 Rear, 15x3.5 Front

325/50/15 BF Goodrich Drag Radials

Current Combo: 9.91 sec @ 143 mph (1/4 mile)

Matt Eggleton

Lenoir, NC

Virgil was very proud of the fact that Kenny made up the dash plaque as shown below. It reads:

Performace

BY KENNY BROWN

M89-026

VIRGIL SMITH _______ SUPER GT

A product of Performance Industries

______________________________________

Understand: If you buy this car, you will be the center of attention wherever you go. It's unique appearance and performance will gather crowds around your car whenever it is standing still.

I REALLY want this car to go to a good home. I will be adding as many pics below as I can. If you have any questions, please do not hesitate to email me and ask. Thanks!

Matt



Vehicle Condition


This car is IMMACULATE, inside and out. Everything has been done "just right." The chassis, drivetrain, suspension, and electronics have all been done on "OVERKILL!"


Terms of Sale


The car includes everything you see in the pictures (wheels, tires, parachute, fiberglass hood and hatch, etc.). For additional negotiated amounts, I can provide the buyer with a 2nd set of rear wheels with 1 year old slicks, the original steel hatch (MINT), and several other smaller items (sway bar, original bumper shocks, etc.).

---

On Apr-17-04 at 10:44:08 PDT, seller added the following information:

Weldon 2035 Fuel Pump with pre and post filters, two -10 feeds from sump in tank to Y-block, to pump, -10 feed line to the rails, -6 return line.




---
On Apr-17-04 at 10:54:09 PDT, seller added the following information: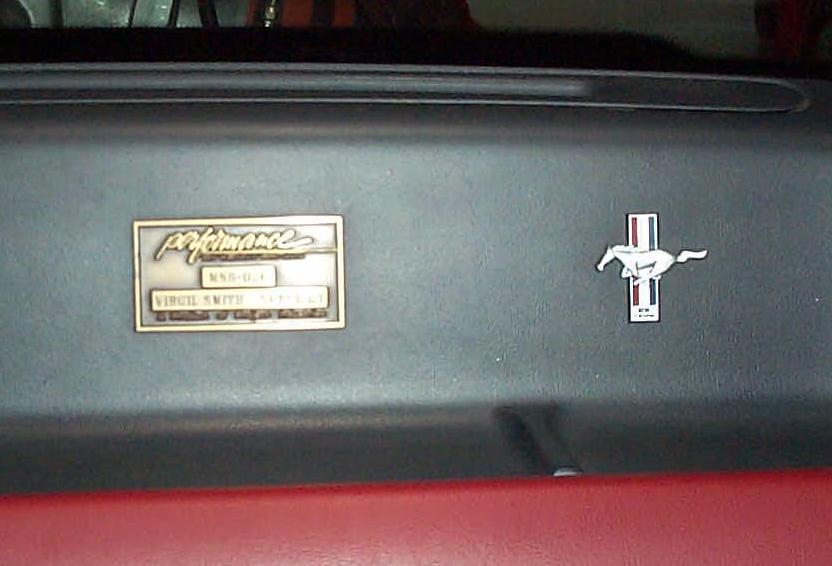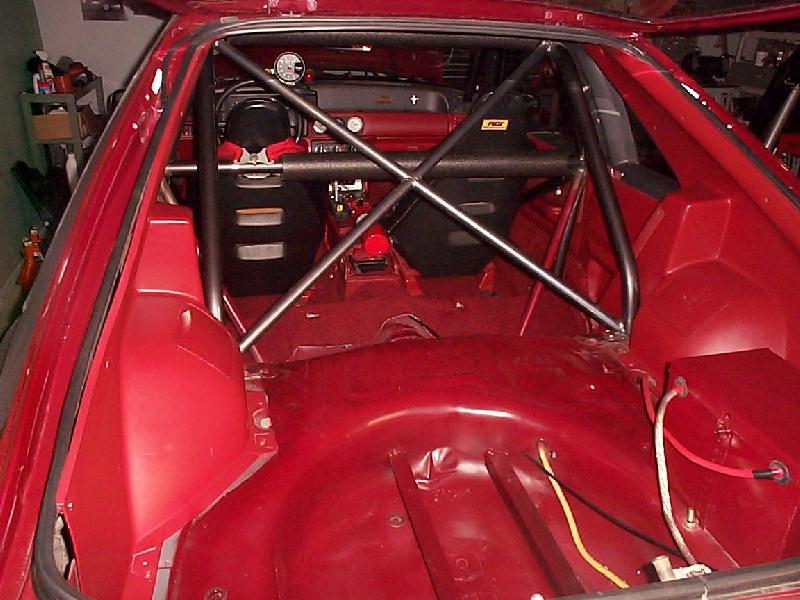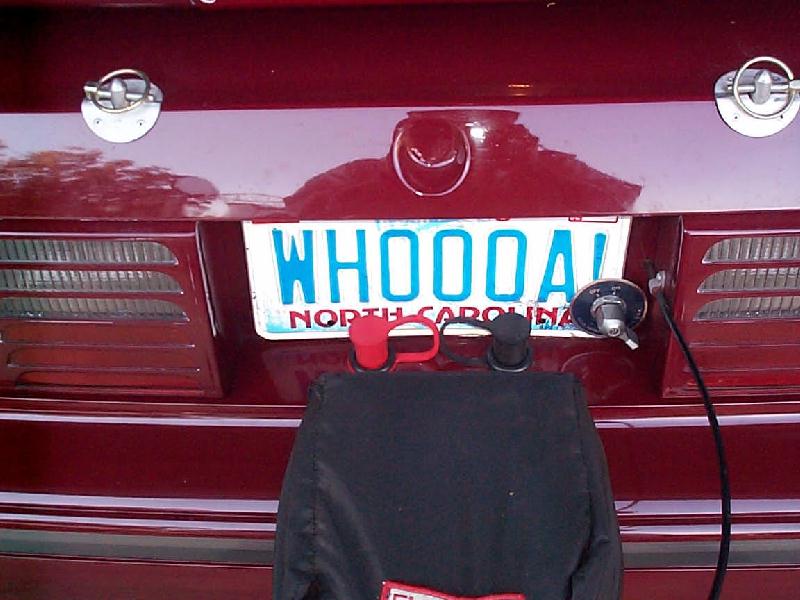 ---
On Apr-17-04 at 11:00:54 PDT, seller added the following information:
If desired, the buyer may purchase my 1997 Fox 16' Tiltbed Trailer for an additional $1,000. It has FIVE brand new Goodyear Marathons (spare is separately mounted and not seen in this pic) and an all new rear axle with electric brakes (installed last fall). The trailer is painted to match the car and has a locking box up on the tongue that includes an electric winch.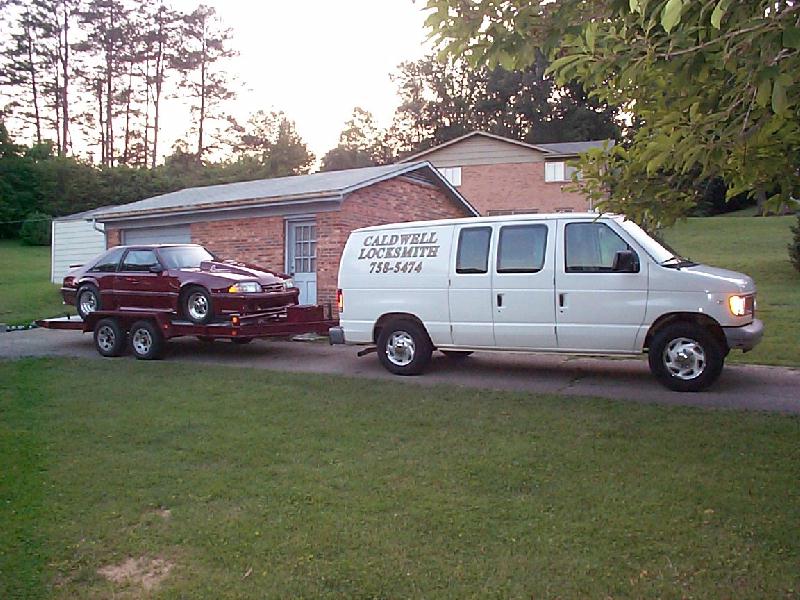 ---
On Apr-17-04 at 12:30:07 PDT, seller added the following information: To clarify about the flared fenders...yes, of course, some Bondo (or other body filler) was used to blend. My point was that, the steel was cut, stretched, and pie-shaped pieces were added and welded in to give the fenders the shape they have.
---
On Apr-17-04 at 12:37:41 PDT, seller added the following information:
Way back in 1995, this car graced the cover of SUPER FORD magazine.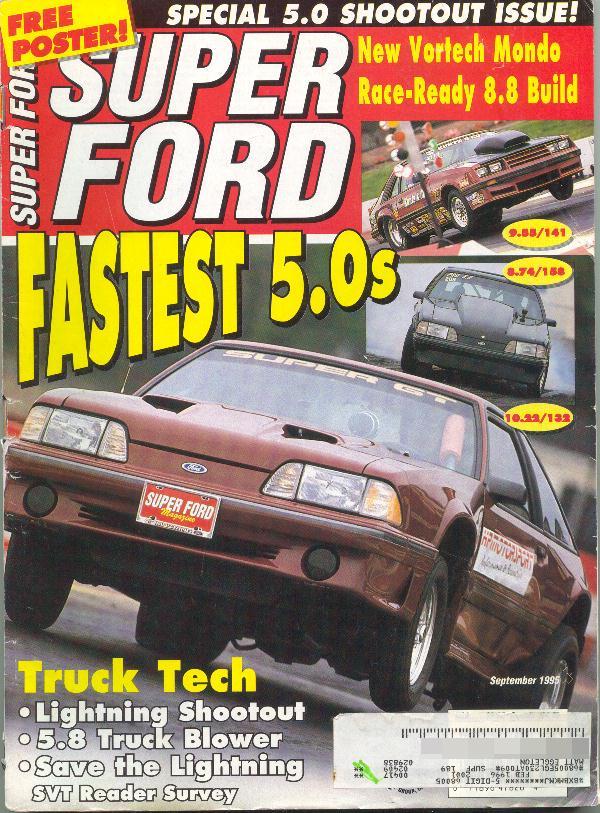 ---
On Apr-17-04 at 13:30:15 PDT, seller added the following information:
The PRO-EFI speed-density fuel injection system on the car works GREAT! It is "similar" to a FAST or DFI system, but the screens are a little more user friendly. Of course, you can datalog several inputs, as well. It is my understanding that PRO-EFI (originally a European company) was taken over by AEM (in California). AEM now markets versions EXTREMELY similar to this software in this car. The latest issue of 5.0 Mustangs and Super Fords (June 2004) describes and shows pictures of this system in the articles "Change your Tune" and "Dyno Tuned." The photos on pages 150, 203, 204, and 210 shows screen displays of the software. The auction winner will get the software, loaded on a Toshiba laptop (included in the auction), that can easily be disconnected from the car by the serial port. Again, you use the laptop to refine your tune, but do not need to carry it with you when operating the car. Obviously, if inexperienced with this stuff, you should probably take it to a dyno that is familiar with this type of tuning any time you want to make a significant change.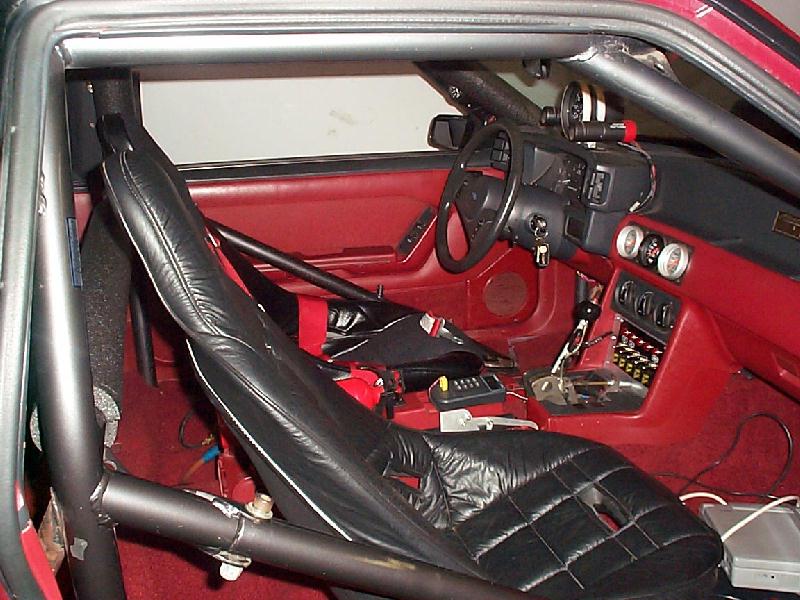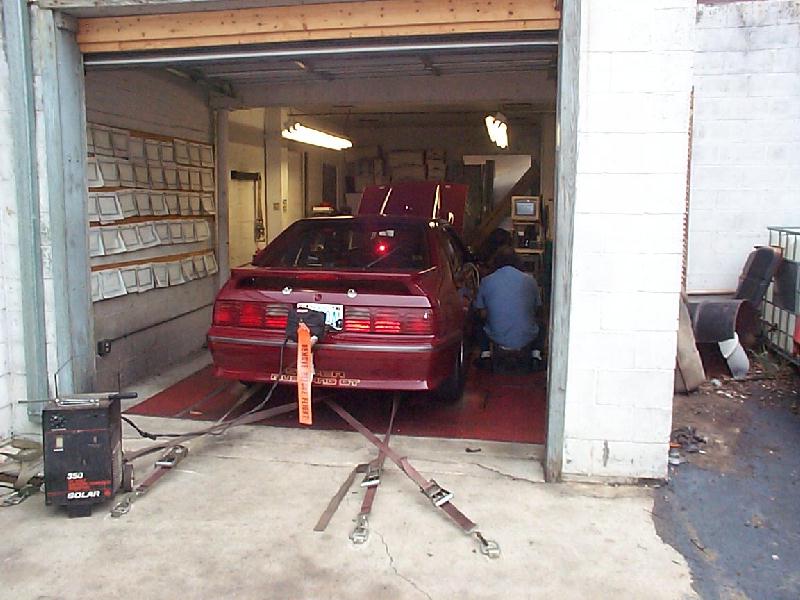 ---
On Apr-17-04 at 14:24:21 PDT, seller added the following information:
More about the engine: In the summer of 2002, I took the engine in for a periodic refreshing. I ended up having a lot of extras done at the same time. First off, I had a second keyway and key added to the crank's snout. The second key is a "blind key" or "square key," not a "woodruff key." It cannot slide forward or back in its recessed area. Also, I had the block slightly bored from its .065" over to .070" over. This a total of 354 cubic inches. This necessitated new pistons, which after reviewing my invoice, (see below) are BRC, not Ross, as I mentioned earlier in the description (I would have sworn I specified Ross, oh well). As well, I had all the valves and valve springs replaced (mega-buck stuff, again, see invoice below).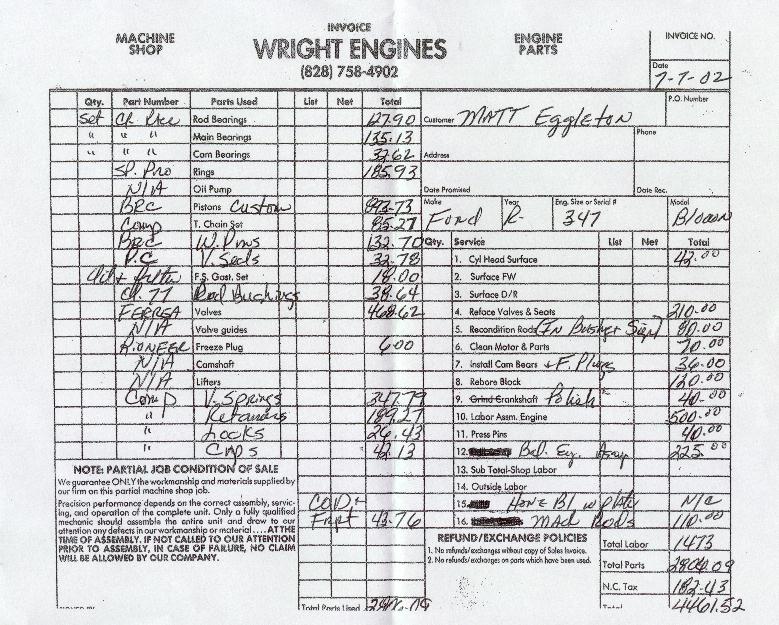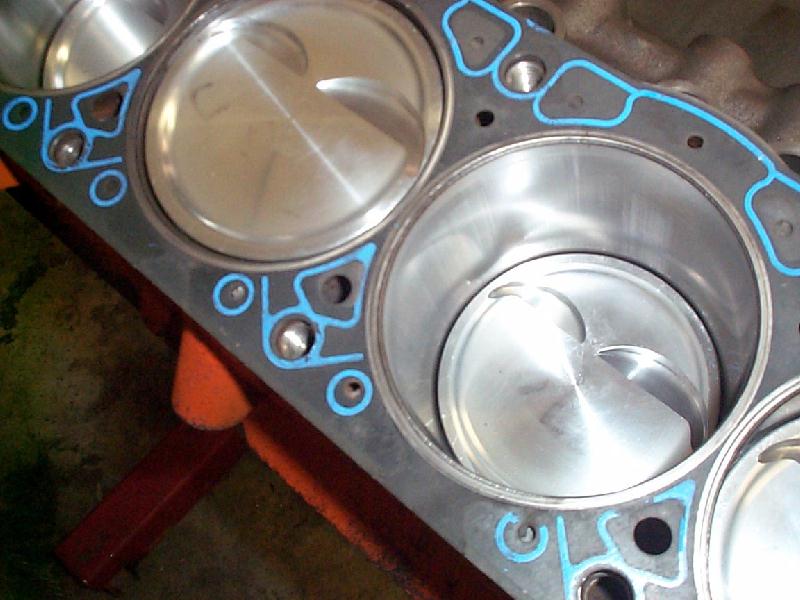 Also note, that on the previous rebuild, the engine builder, Bill Vice of Omaha, Nebraska, epoxied little screen filters in the lifter valley to prevent any debris from reentering the oiling system, in case there was a problem in the valvetrain.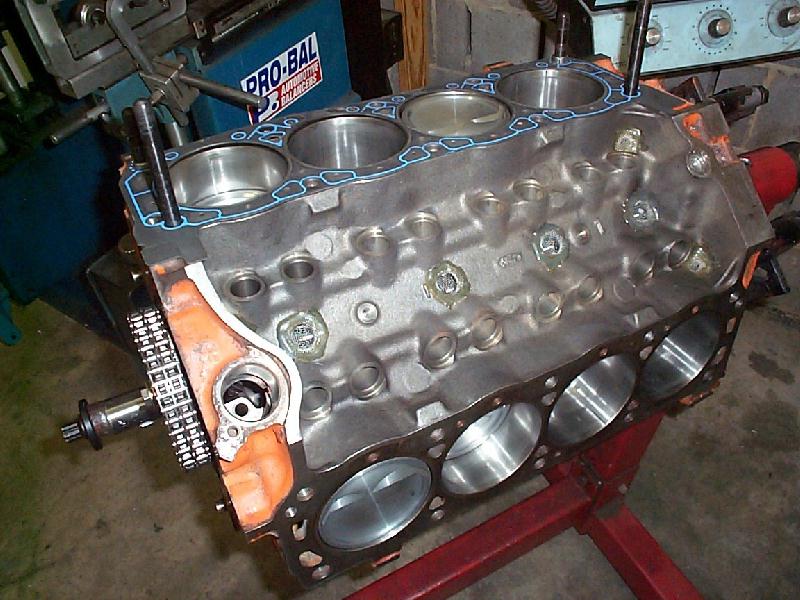 Those two shortblock pics were taken during the 2002 rebuild before final assembly and painting. Disregard the headgaskets, those were just used for mock-up. TFS Lock-wire gaskets were used in the final assembly. Pictures of the final product, with the ATI Super Damper, installed can be seen back near the top of the description.
For the past two years, I've been in graduate school, so I've had very little spare time to race or show the car. So since the 2002 rebuild, I have one dyno session and about 20 passes at the dragstrip (4 on the 1/4 mile, the rest on 1/8th mile). Unfortuantely, I have no street time on it. So, it is still virtually ALL NEW inside.
---
On Apr-17-04 at 19:06:43 PDT, seller added the following information:
More Engine Details: The TFS Street Heat Heads were sent off Fox Lake in 1999 and received Stage 3 porting and Pro exhaust ports (sometimes refer to as "apple ports." Before porting, the old header bolt holes were welded and new bolt holes were drilled and tapped at diagonals. As well, the heads were fitted up with 2.08" and 1.60" long valves (5.060").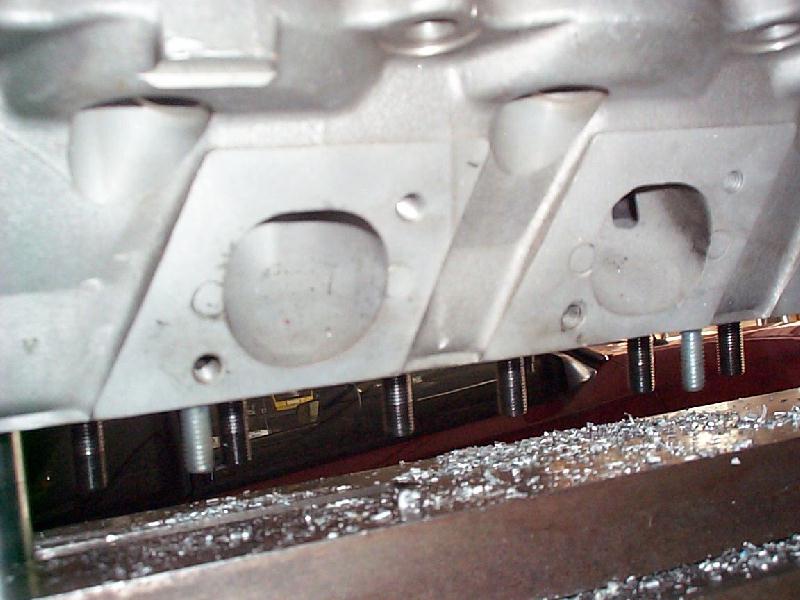 The result are flow numbers of: intake = 321 cfm, exhaust = 241 cfm (see the flow sheets below).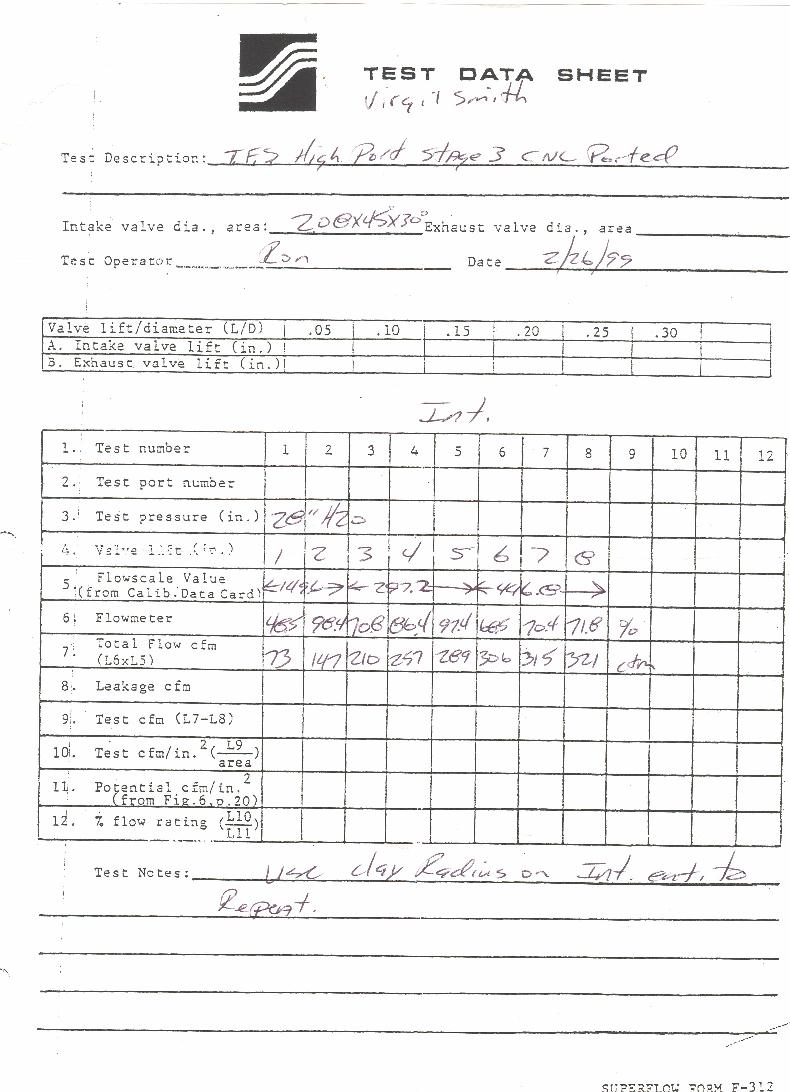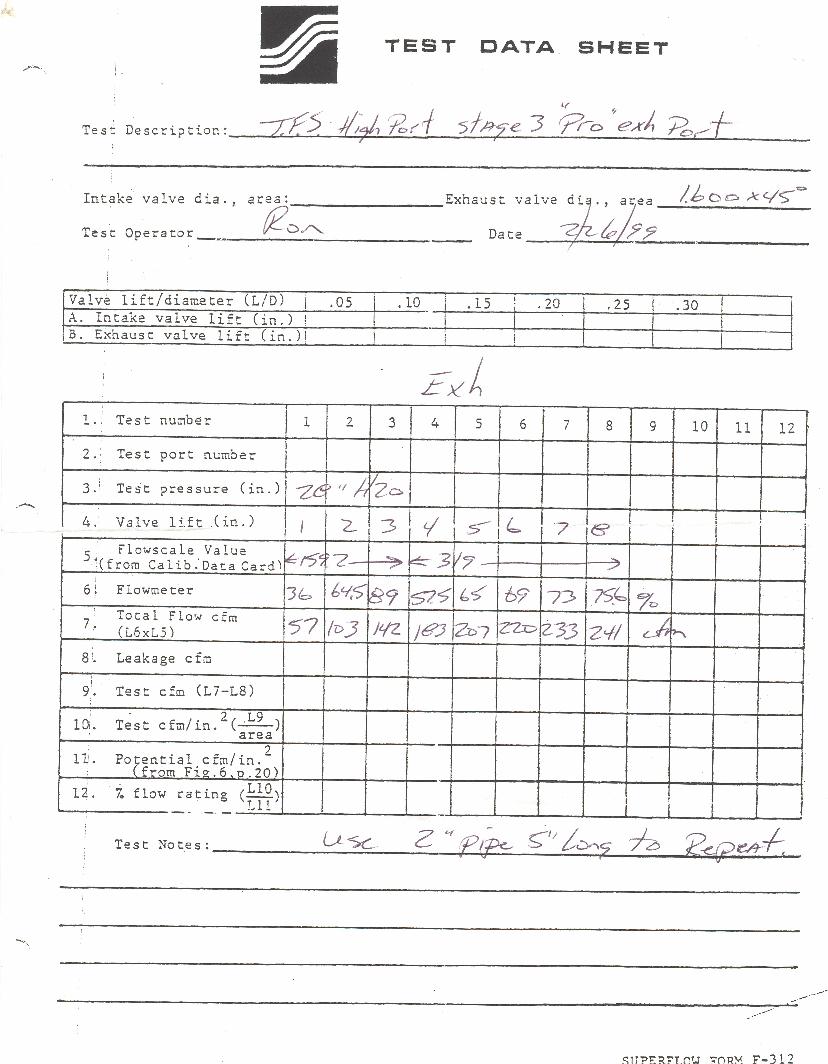 Also, the Ford truck lower intake was Stage 3 welded and ported, then spray painted so that the extra material is hardly noticeable.
A summary of the work is shown on the invoice below.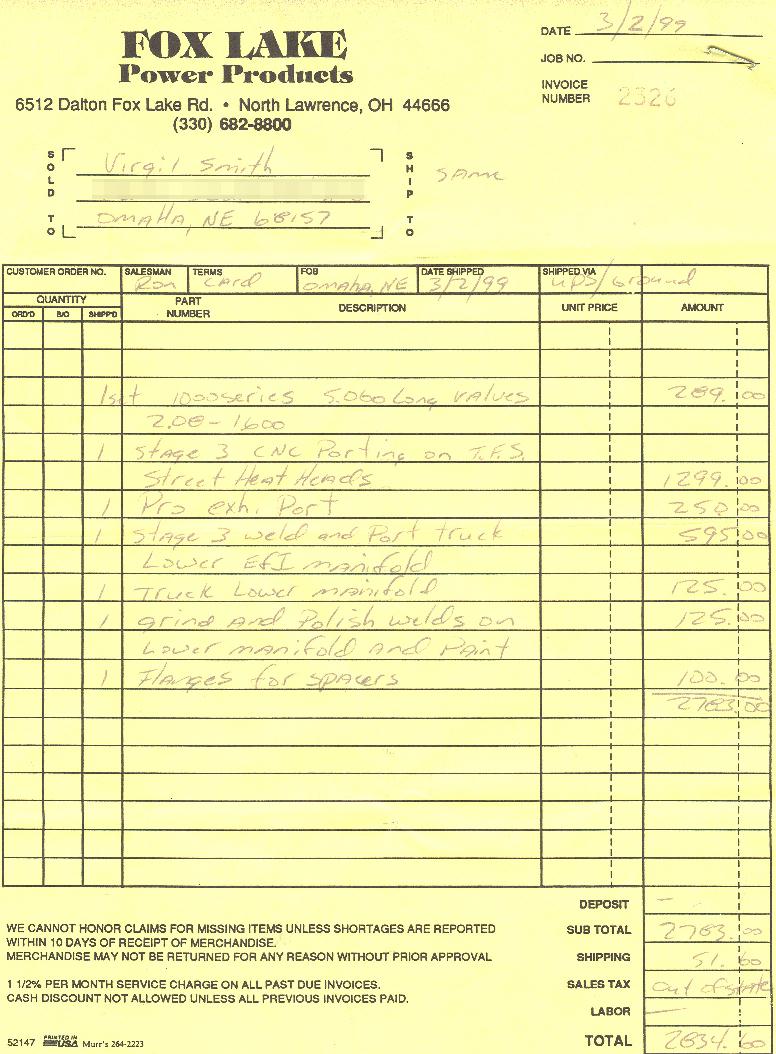 ---
On Apr-17-04 at 19:20:07 PDT, seller added the following information:
Just to reiterate....the Ford truck lower intake was Stage 3 welded and ported by Fox Lake, then spray painted so that the extra material is hardly noticeable. This piece is a true work of art.
Some More Great Info: Transmission: The JW Ultraglide is an aluminum case powerglide with ALL the goodies available from JW in Florida. It has the ultra flywheel, trans brake, input & output shafts, roller bearing tailshaft, oil pan, bellhousing, etc. The bellhousing, case, and pan are all SFI rated (as a matter of fact, everything on the car that needs to be, is SFI rated and up to date....there are NO shortcuts).
The custom built driveshaft (powerglide to Ford 8.8) is by DynoTech Engineering Services, in Troy, Michigan. It is a metal-matrix driveshaft with Williams yokes. This is a $500+ driveshaft.
Stay tuned...still more to come, I'm sure....
---
On Apr-18-04 at 13:49:53 PDT, seller added the following information:
Blemish: I'm an upfront guy and from my feedback history you can see that I have long and solid reputation on ebay. I have sold several big ticket items (another drag car, an enclosed trailer, a couple superchargers, engines, transmissions, etc.) and never had a problem with customer satisfaction. That being said, I want to point out the one major blemish on the car. On the right front fender, between the wheel opening and the turn signal, a chunck of paint about the size of a quarter fell off the fender recently. I have carefully covered the spot with matching touch-up paint (see photo below), but it is still visible if you are looking for it.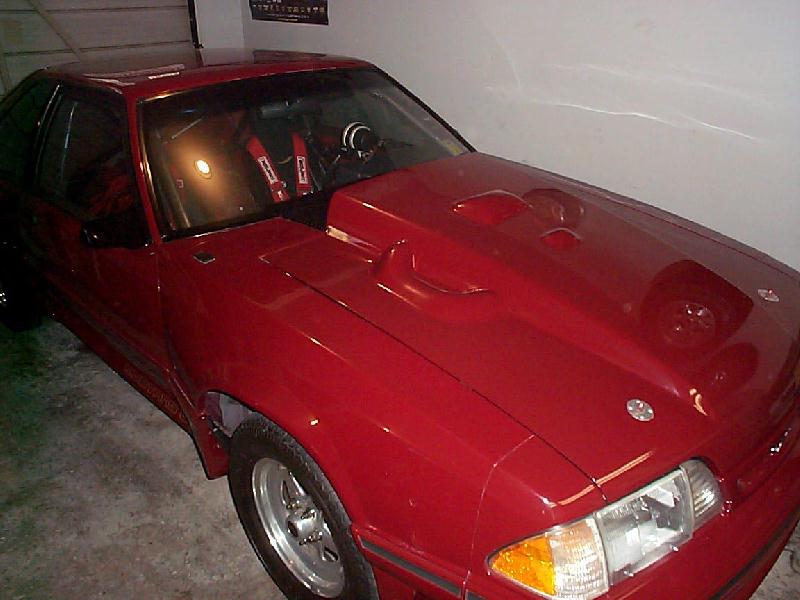 Also in this picture you can see the unique 4" cowl hood. When the car had a Vortech XX-trim blower and after cooler, Virgil had a fiberglass specialist hand-lay the blisters that you see in the hood. The craftsmanship with which the work was done matches the superb quality throughout the rest of the car.
---
On Apr-18-04 at 14:14:48 PDT, seller added the following information:
Thru-Floor Subframe Connectors and Interior: As mentioned earlier, this car has through-floor subframe connectors that also tie-in strongly to the certified roll cage.
This first photo shows the thru-floor sub coming through behind the driver's seat and tying into the roll cage. As well, you can see that a triangulation point supports the main hoop and is welded to the 6" steel square. Barely out of view is the horizontal rocker panel bar that connects the bottom of the main hoop to the front point.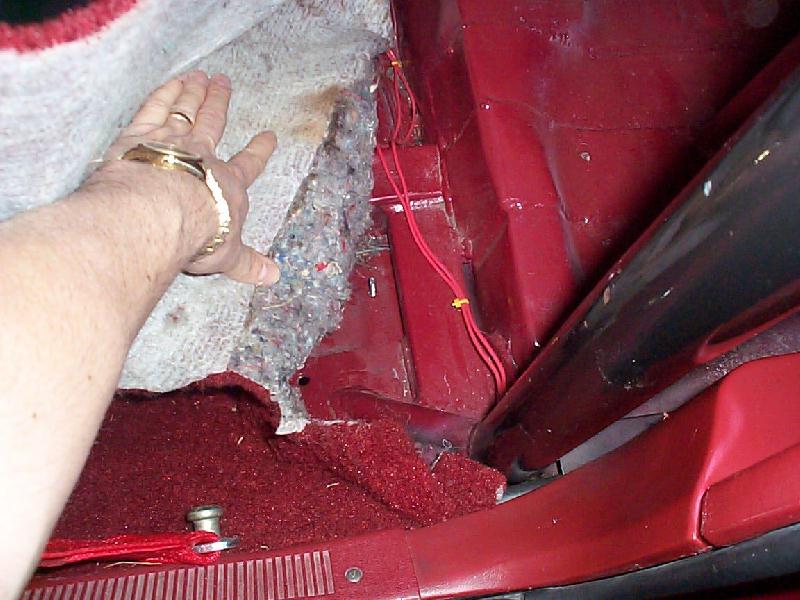 In this second photo you see how the thru-floor sub connects to the front point of the cage in the front portion of the driver's side floor pan. You can clearly see the previously mention rocker panel bar that came from the bottom of the main hoop.
Also of interest in the photo above is the fuel line that you see running from the firewall along the rocker panel bar and then out the rear of the car near the taillight. Don't be alarmed; it is not really fuel line. That line carries any radiator overflow water to the overflow tank, tucked neatly up under the rear bumper cover. When racing, the last thing you want to do is run over your own radiator puke. This is a very common technique used by professional race car builders that is often overlooked.
Next is a photo of the cockpit. In it you can see the array of gauges (tachometer, pyrometer, vacuum/boost, oil pressure, water temperature, and trans temperature, air inlet temperature, shift light, low oil pressure warning light) and controls (quarterstick shifter, electronic switches, parachute handle, fire extinguisher, and the functional power locks and power windows).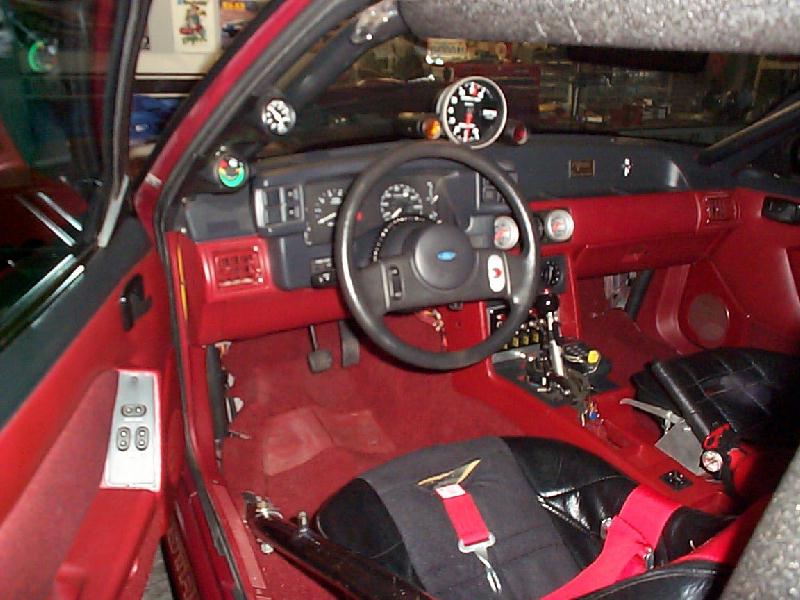 Also, I'd like to point out that I recently installed the 2nd transbrake button on the steering wheel, so that now you can have both hands on the wheel at launch. The button on the top of the shifter still actuates the trans brake as well. The doorbell shaped momentary switch on the shaft of the shaft operates the roll control for executing proper burnouts. Finally, you can see that the diagonal bars of the cage are removable, should you want to return the car to daily street duty, or need the extra room when working under the dash.
Stay tuned, more will come as the questions come in......
---
On Apr-18-04 at 14:21:48 PDT, seller added the following information:
Typo above...the doorbell-shaped monetary switch that operates the roll control is on the shaft of the SHIFTER.
---
On Apr-18-04 at 14:24:03 PDT, seller added the following information:
Whew....monetary = momentary....it's been a long day already.
---
On Apr-19-04 at 05:33:12 PDT, seller added the following information:
The following article is from the March 1995 issue of Mustang Monthly magazine. I include this to fill you in on more of the car's history. Please note that the engine and the performance details listed have changed significantly since then.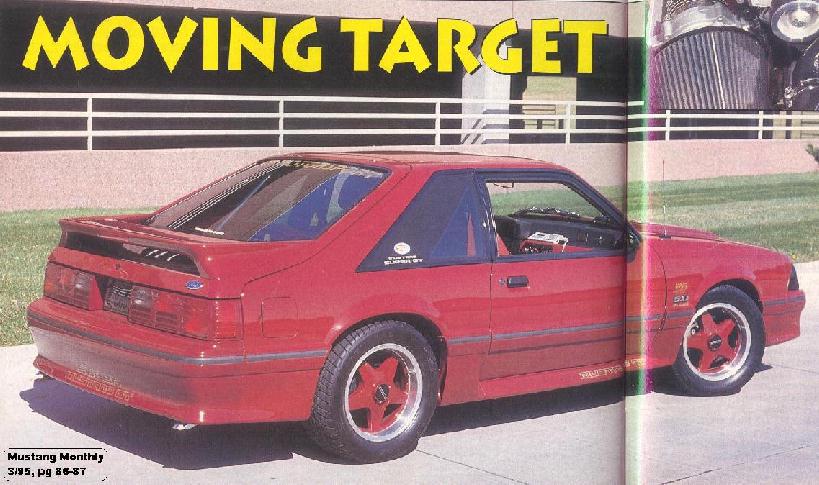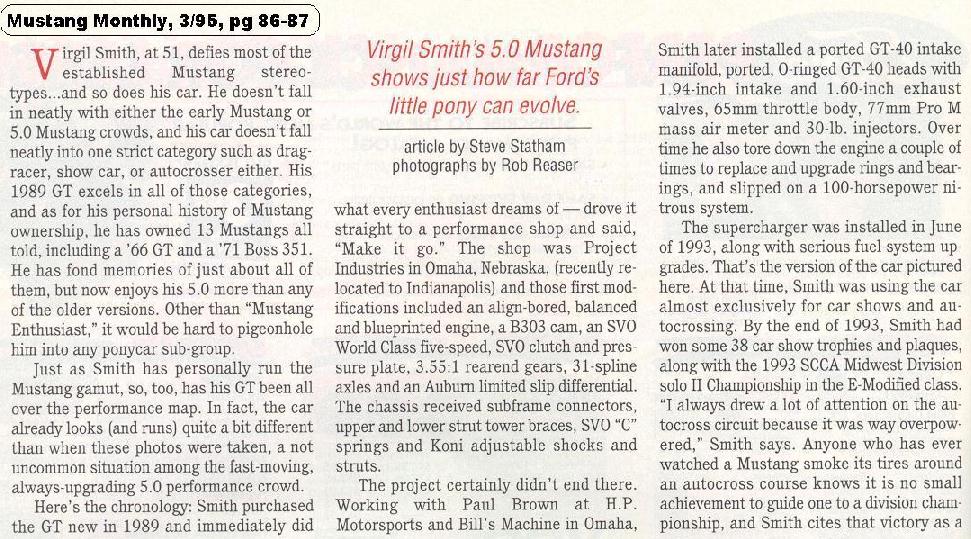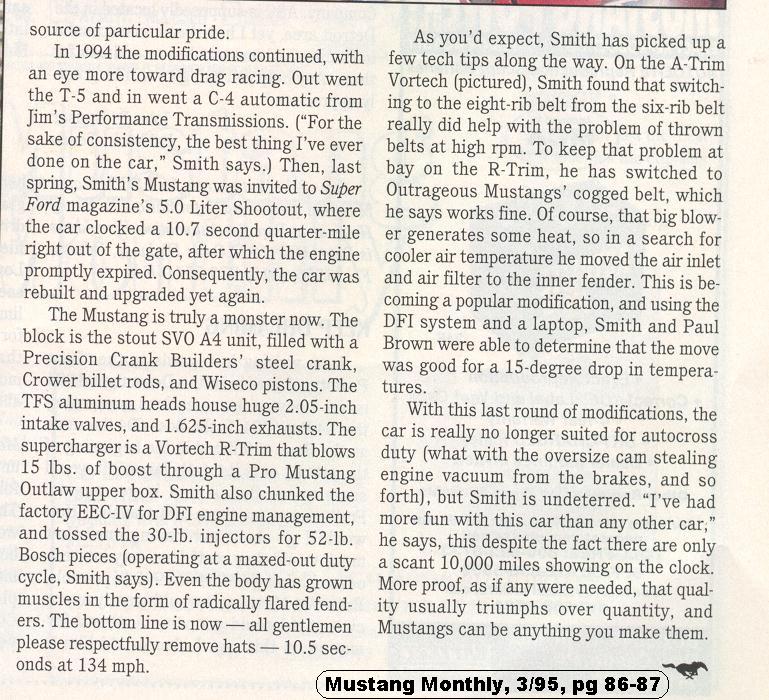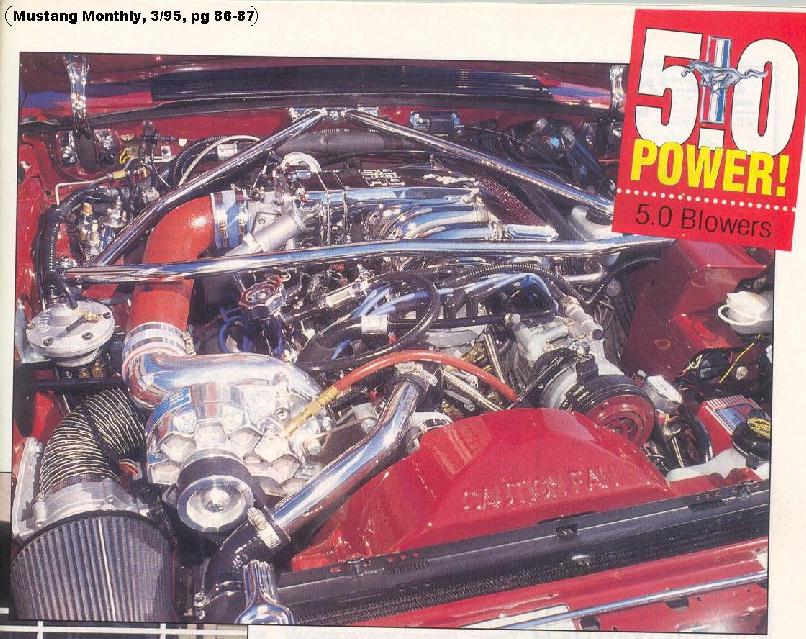 ---
On Apr-19-04 at 07:35:53 PDT, seller added the following information:
OK, with all that being said, I hope the future flexibility of the car is clear. The entire longblock is ROCK SOLID and was built to make mid-8 second passes. If you were to upgrade to a larger supercharger or to a turbo, this car would be right back in the mid-8s, NO PROBLEM.
Another option would be to take the car back to a road racing trim. A day or two of swapping transmissions, coil springs, shocks, reinstall the sway bar, etc., and you could make some serious noise on the road course.
As well, you could change cams to something more mild, swap the powerglide to a built AOD, move to a smaller exhaust, and swap the spool for a differential, and you could have the baddest street Mustang anywhere near your town.
So, my point is, it is important to understand this this car is a bad mamma jamma right now, without question. But could be at the pinnacle of performance in several categories with just a few days work.
Enjoy!